TERASHAIN - "Screaming In The Night" - Krokus Cover - Joe's Grotto/Blooze Bar Benefit - 7/11/10 This video, along with the pictures from the 'Photos' page were shot by Julie Penton.
Here are a couple more video's from the "Vacation's Over" party with new drummer JQ! Thanks to Lynda, and to all of you that made it out!

"Bad Girlfriend" (Theory of a Deadman cover) - October 9th, 2009 - The Blooze Bar (Lynda Logan)

"Dreams Gone By" - October 9th, 2009 (Lynda Logan)
These are the first three parts of a complete history up to today for this band. Please stay tuned for the remaining sections to be added over the next few weeks!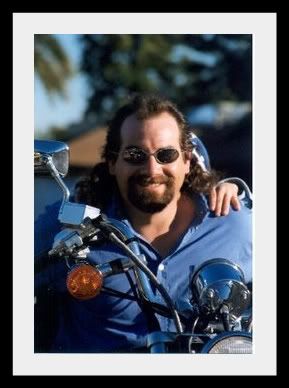 Michael Edward Anderson 1964 - 2005 There is a song on 'Dawns Early Life' called One Door Closes. It's easy to tell early on in the song that it's a tribute to a lost friend, and a quest for information about the circle of life. As much as we like the song, it's one that we sure do wish we didn't have the inspiration to write… In June 2005, the extended TERASHAIN family lost a member. Our founding drummer, Mike Anderson died in his sleep. Those of you that had the good fortune to have had Mike in your life know just what we lost that night. Mike had an amazing passion for life. He was a passionate guy that tried everything life had to offer at least once, and he enjoyed most of it! Among his greatest passions, however, were his son Eddie, his brother Jon (founding guitarist and great friend), and his girlfriend Marie (long time friend of the band). Mike gave 100% to his friends and family, and TERASHAIN was no exception. Long after he had vacated the drummer position with the band, he continued his strong friendship and support with this band in at least a hundred different ways. The guy was always there to be a big brother to all of us, and we all knew we were better off with him around. Life was just that much better when you were hanging around with Mike, usually laughing! As you can probably imagine, one of the best perks about being in a band is the camaraderie you develop with your 'partners in crime', or your other band members, and of course the friends and fans. It is with sadness that we play a set at Hardtailz without him there to handle a belligerent drunk, or come up to play a tune on drums, or deliver his traditional 10 rounds of beers to the stage. But it is with pleasure to know that we were even lucky enough to have had those things with Mike to begin with. Over time, our tears become smiles from the amazing memories he gave our family. We just wanted you to know. Thanks for reading! Roger, Lance, Mike, and Dave TERASHAIN
TERASHAIN Live @ The Brickhouse - Phoenix, AZ - June 29, 2007
TERASHAIN Live @ The Brickhouse - Phoenix, AZ - June 29, 2007
TERASHAIN Live @ The Brickhouse - Phoenix, AZ - June 29, 2007
TERASHAIN Live @ The Brickhouse - Phoenix, AZ - June 29, 2007